In the summer of 2018 I entered a number of my creative pieces into Shrophire's Newport Show.   I was so thrilled that they all were placed!
First Place – Bumble Bear
I won first place for 'Bumble Bear'.  A teddy bear which I was inspired to make following textile lessons at school.   I made 'Bumble Bear' by following a pattern I found on the internet and using a sewing machine.
Second Place – Collage of Trees
This category required me to submit a picture which comprised four collages of trees.    I was delighted to be awarded second prize.
Top left – I used photographs which I had taken, of the same tree, but which had been taken at different times of the year.  These photo's demonstrated how the tree changed during the different seasons.
Top Right – I used buttons to show the tree.  The buttons represented the bark and texture of the tree.
Bottom Right – This picture represented autumn.  I used watercolour to show the red sky and cut out the silhouette of the tree from dark paper.  I then used fabric to represent the ground which had been harvested.
Bottom Left – These trees represented the view of our local forest school.   I used chalk to create the background and then used newpaper to represent the tree trunks.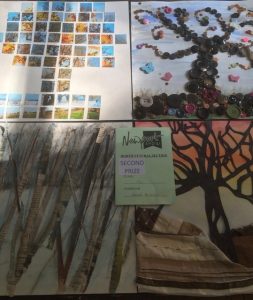 Third Place – Pencil Sketch
I entered the pencil sketch category.   This picture was inspired by a photograph I took when I visited Crufts earlier this year.   I worked on the pencil sketch for a number of weeks and tried to focus on highlighting its features.   The competition was really tough in this category so I was really pleased to have been awarded third place.